The 50th anniversary edition of the Sehsüchte film festival is just around the corner. At the start of the festival, Nina Dekker and Philipp Eichel, coordinators of the main programme, provide an insight into their work and this year's programme.
First the hard facts: How many films from how many countries will be screened in this year's programme? And how many submissions were there?
Nina & Philipp: We have a total of 107 films from 35 countries in the programme, including the special programmes (Future, Retrospective, Focus Production, Showcase and 360°). Over 1000 films were submitted!
How does the selection process work? Can you name the individual phases that make up the Sehsüchte programming?
Philipp: The starting signal was the Call for Entries in November 2020, which means that from then on filmmakers could submit their films. Immediately afterwards, the first group screening with all team members of the programme took place in the large cinema at the Film University. From the end of November until the first week of February, we screened in pairs, even over Christmas.
Nina: Each film is screened by two people from the Sehsüchte team, who then decide together whether it will be included in the next phase. This creates a solid pre-selection and the whole team gets the chance to have a look at the film submissions.
Philipp: In the last three weeks of February, we continued directly with the group screening phase. In this phase, every film that has received a green light in the two-viewing phase is watched again with the whole team of the main programme. Afterwards, each team member has one vote and a final vote is cast for or against the film. In the first week of March, we started programming, which means finalising the selection and putting together the film blocks.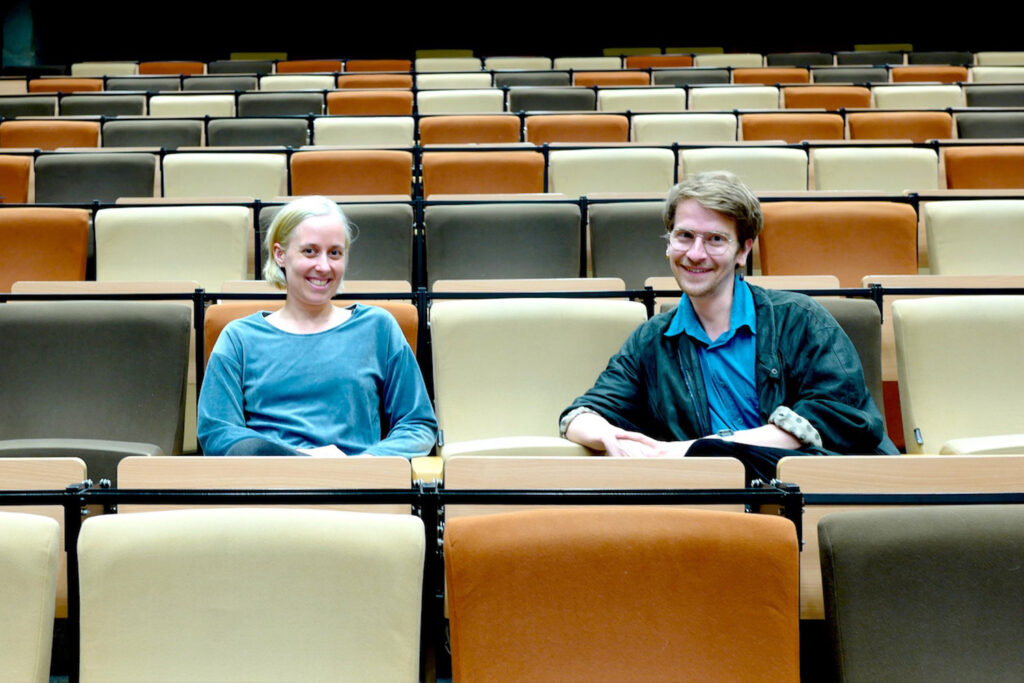 You are coordinating the programme team this year. How has the experience been for both of you?
Philipp: This year, the whole process had to be organised digitally, which was a completely new experience.
Nina: Everyone sits alone in their room, so viewing and programming the film blocks is definitely a challenge.
Did you notice any effects on motivation or group dynamics?
Nina: We watched the films simultaneously and discussed them on Zoom. I was really surprised how well that worked! Interesting discussions emerged, although of course it took a while to get to know the others and feel comfortable.
Philipp: At this point, I'd like to say a big thank you to our team, who we could always rely on and who kept the whole thing going – despite the difficult circumstances. That can't be taken for granted.
Nina: Yes, it wasn't always easy and above all it was a lot of work. You can't do it without endurance. Even though we were tired at the end, there was a great group dynamic.
Philipp: Eventually, we were able to assess what the other person pays attention to and values when watching a film: Whether it was aesthetics, action or rather the social and political aspects. That was very enriching! And making it clearer once again: what do I actually pay attention to when watching films and what do the others focus on? We had a good mix of different perspectives in the group.
Were there big differences in opinions?
Nina: Everyone has had the experience that a film you liked a lot yourself didn't make it, or a film you didn't like so much thrilled others. But we all have our biggest favourites in the programme. In order to do that, we had a system that favoured the so-called " dividers" (films that divided the team). That's what makes our film programme so interesting! In addition, we were guided by the festival's mission. It was also important for us to put together a diverse programme – in front of and behind the camera.
Philipp: I can only emphasise that. We made sure that, from the point of view of society as a whole, voices are expressed that are not necessarily heard in everyday life. But also on a transnational level, it was important for us to show other perspectives – related to topics like feminism or social injustice.
How did you put together the film blocks this year?
Nina: Some film blocks were created for thematic reasons, such as similar socio-political issues that the films address. Some blocks came about on a formal level, through the film form itself. The six shortlists were particularly fun for us to programme! One shortlist consists only of films with underwater scenes (laughs).
What about the Q&A's with filmmakers this year? Many can't come because of the pandemic…
Nina: We have received the Q&A's from most of our great filmmakers in form of a short video. But if the film team manages to be there, we will be able to do some additional Q&A's live on stage in the cinemas. I'm particularly looking forward to that.
Phillip: It is important to us that the filmmakers have their chance to speak, despite the circumstances. After all, the exchange between audience and film teams is a central part of a film festival.
What are your personal favourites this year?
Philipp: Unfortunately we can't be that specific, but what we can highly recommend are the shortlists! They all have fire…
Nina: I find the films that are not so European-centred particularly interesting. We have different films, for example from Latin America: from Peru, from Colombia, Mexico, Argentina…
Philipp: Also from Israel and South Korea…
Philipp: …and our highlights from Finland! Very interesting films that play with the viewing and listening experience.
Nina: As you can see, there's plenty to discover!
Thank you for the interview!